"Therefore I will boast all the more gladly about my weaknesses, so that Christ's power may rest on me. That is why, for Christ's sake, I delight in weaknesses, in insults, in hardships, in persecutions, in difficulties. For when I am weak, then I am strong" 2 Corinthians 12:9-10.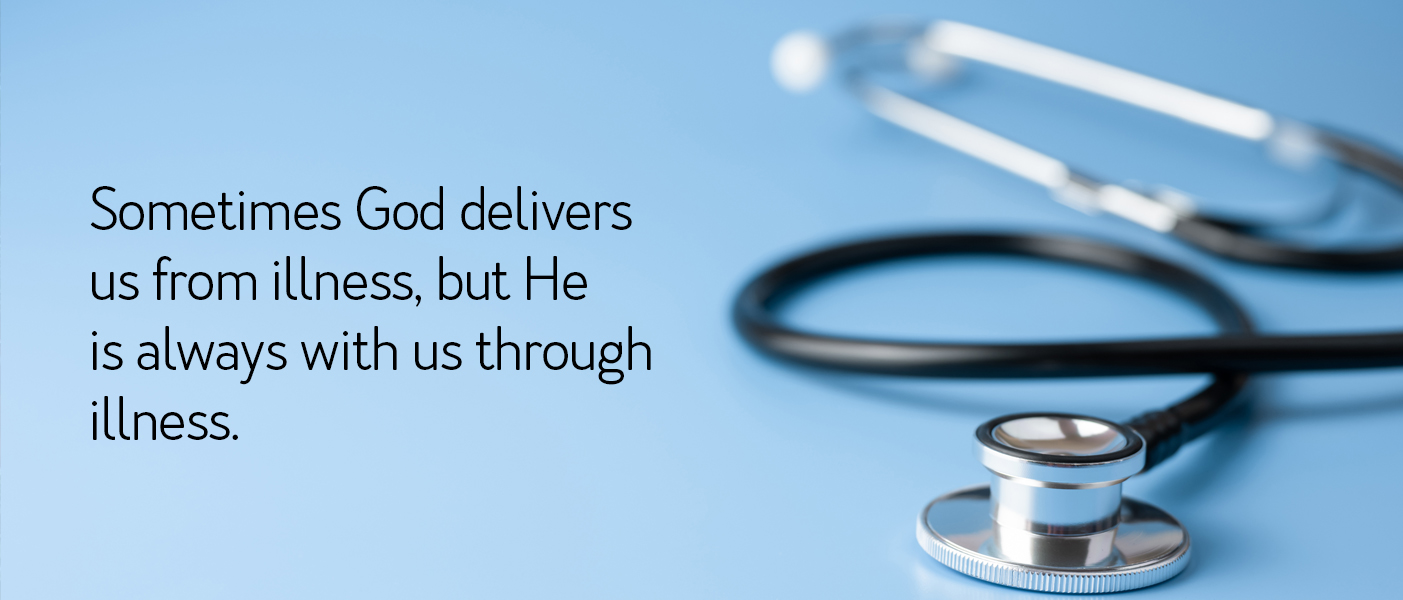 You've probably heard someone say that if you only have enough faith, God will heal you from illness or disease. After all, we see many examples of healing in the Bible. Jesus healed the sick. He restored sight to the blind. He even raised the dead. But this statement about faith is wrong.
In modern times we experience healing in many ways. Doctors and medicines bring healing, and these are gifts from God. And we do see examples of miraculous healing. But sometimes even with great faith, we are not healed. Does this mean we should question our belief in God? Because God's plans are eternal, and our perspective is limited, we may not see fully how He is using our time and influence on earth for His glory. Sometimes that includes healing us from illness. And sometimes it doesn't.
We don't know why God does not heal everyone. But we do know this: God's grace sustains us, even when we must bear with illness. God's healing miracles on earth are only a preview of things to come. Jesus' first coming was a sure sign that when he comes again, he will wipe all tears from our eyes (Revelation 21:4). Remember, Jesus raised Lazarus from the dead, but Lazarus eventually died again. The greatest thing Jesus did was to give His life as payment for our sins and bring us a path of eternity in heaven with Him.
Though our physical healing may be in question sometimes, our spiritual healing is not. Our faith does produce spiritual healing, when we place it in Jesus Christ. And that faith produces eternal healing. When we die and go to heaven, we will have a new body, free from disease and deformity, made perfect again, to live with Christ Jesus forever.
Today we are imperfect people living in a fallen world that is filled with sin. Though as Christ-followers we will join Jesus in heaven one day, right now we may have to endure suffering. God does heal us sometimes, but healing is not the only path God chooses for us. So we can pray for healing. But we can also pray for and know that Jesus will see us through even when our situations are difficult.
Prayer: God, thank you for the gift of your healing power. In the midst of illness, I pray that you will heal, and that you will drive away the viruses, germs and disease from our bodies. God, we trust You fully and know that Your greatest work of healing was done through Jesus Christ on the cross. We thank you for the spiritual healing that you offer through a relationship with Jesus, and that one day we can join you in heaven and be free of illness and disease forever. In Your name I pray, Amen.
NEXT STEP
One of the best ways to put our faith in God through personal illness, or when a friend is ill, is to pray regularly. At Cross Pointe, you can join our Prayer Team, where you can pray daily not only for your own needs, but for the needs and challenges of others. Click below to take a step onto our Prayer Team.