Therefore, as God's chosen people, holy and dearly loved, clothe yourselves with compassion, kindness, humility, gentleness and patience. Colossians 3:12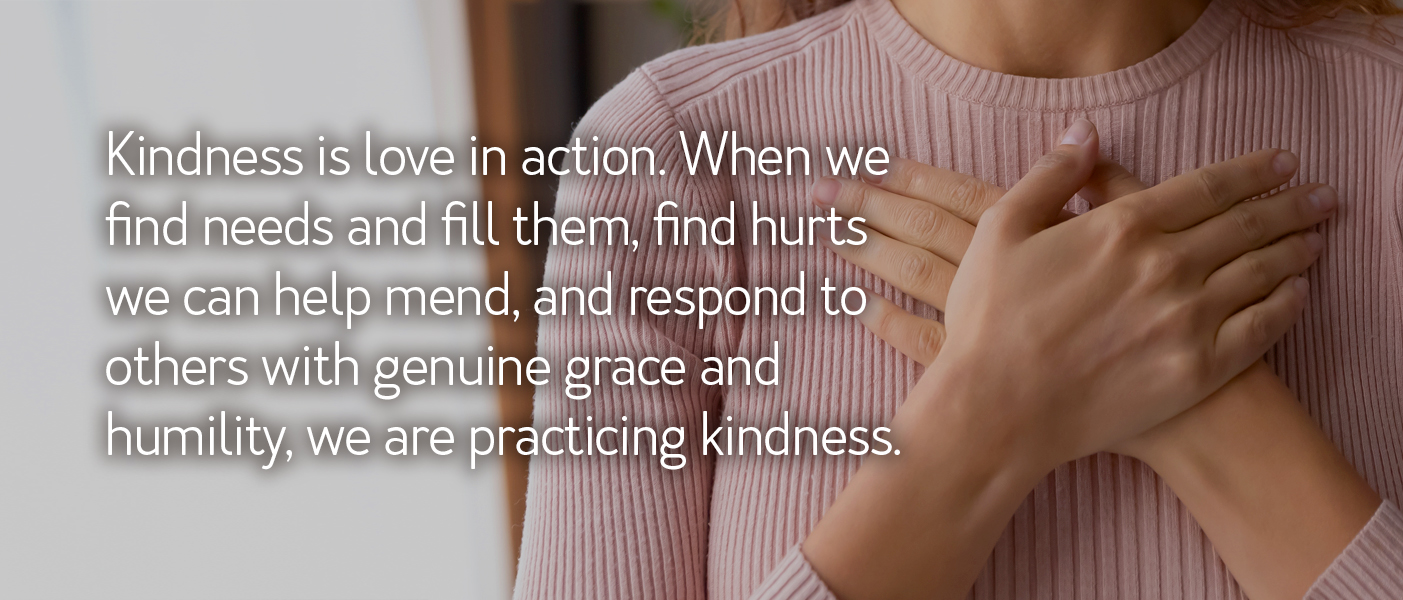 Notice the word clothe in Colossians 3:12. The Greek word means "to put on." Paul is communicating that when we wake up in the morning, we ought to get dressed spiritually as well as physically. When we decide what to wear, we should also ask ourselves, "What kind of attitude am I going to put on today?" Kindness is a choice. It is something we can choose "to put on" every day.
Kindness is love in action--a practical expression of love. It is visible and active, not just emotional. There is a song that says, "Find the need and fill it. Find the hurt and heal it." That is kindness. But why should we be kind? After all, kindness can be risky. We might be misunderstood if we are kind to others. They might think, "Why is this person being so nice? What's in it for him?" People we are kind to also might take advantage of us. They might become parasites with the attitude, "Oh, here's a sucker. I'll milk him for all he's worth."
Despite the risks, we are to be kind for two reasons. First, we are to be kind because God is kind to us. Ephesians 2:8 says, "Because of His kindness you have been saved through trusting Christ." Grace and kindness always go together. We should be kind just because God is kind to us.
The other reason we should be kind is that we want people to be kind to us. We want to be treated right. Jesus said, "Do to others what you would have them do to you" Matthew 7:12. If you are kind, most people will want to respond the same way. Proverbs 21:21 says, "Be kind and honest and you will live a long life; others will respect you and treat you fairly." In Proverbs 11:17 we read, "Your own soul is nourished when you are kind..." So when we are kind, we are really doing ourselves a favor.
NEXT STEP
A great way to convey kindness is to serve others, especially those who are in need. Our CarePointe Ministry is always looking for volunteers to help collect, sort and distribute food and clothing. Weekly volunteers meet to prepare our CarePointe facility, and then on Wednesday and Saturdays our volunteers distribute food and clothes to hundreds of families. For more information and to volunteer, visit CarePointe online now.