"Do not be anxious about anything, but in every situation, by prayer and petition, with thanksgiving, present your requests to God. And the peace of God, which transcends all understanding, will guard your hearts and your minds in Christ Jesus." Philippians 4:6-7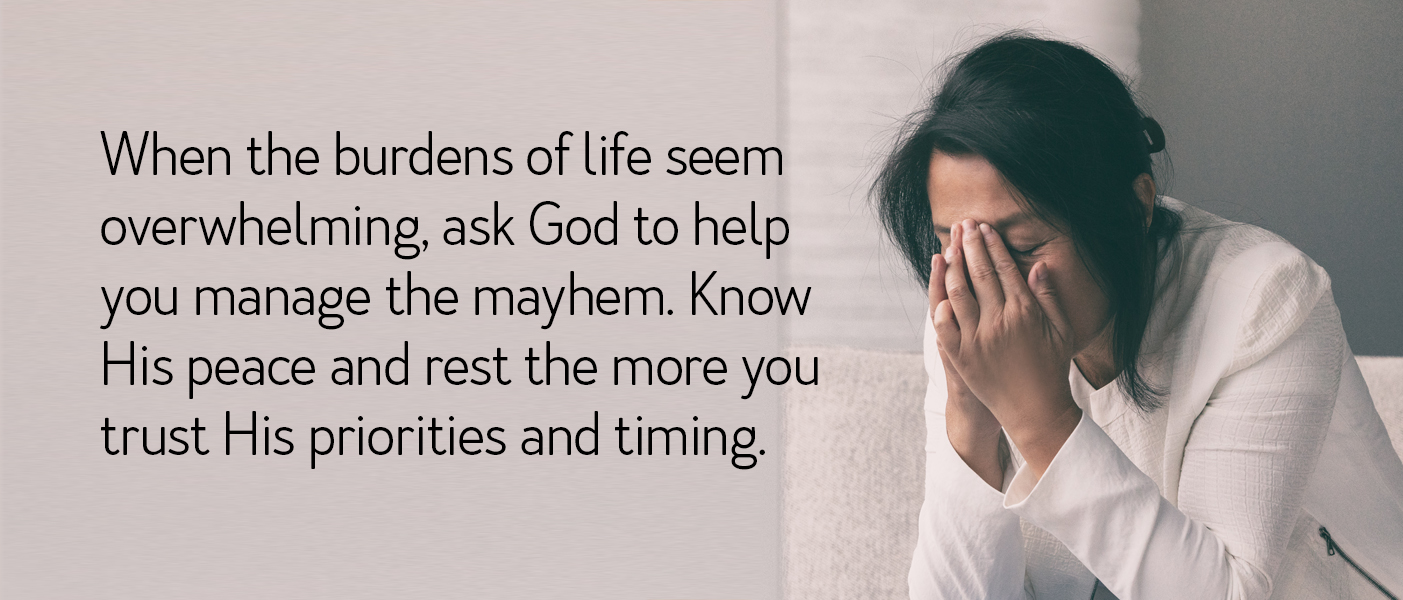 Unlike worry, which is a reaction to circumstances that you may not control, stress is all about the anxiety of circumstances that you do control. The burdens of life that pile on each day. Saying yes to too many things and not being able to manage. The traffic that delays your schedule that affects the meeting that makes you late for dinner. The day starts in control and the more out of control it gets, the more stress we feel.
God wants us to live stress-free lives. For the challenges we have in life, He wants us to trust Him for control, instead of wanting to be in control. We often try to live our lives according to our own man-made plans because we feel more in control. We think that things are more manageable if we can lay them out ourselves according to what we feel, think or want to do. This feeling of control doesn't last for long, though, and soon we are left stressed out, overwhelmed and wondering where we went wrong. People do this all the time, but it is important to trust God in all areas, knowing that He knows best. Not only is God's plan for our lives better than any plan we could come up with on our own, but it will also bring us peace and joy!
How do you know God's plan? Read His Word and know His priorities. When you make decisions, ask God in prayer whether to say yes or no, whether to add another to-do, whether your plans are in line with His. Trusting fully in God brings a peace beyond human understanding. When we put our faith in God, we can go through terribly stressful situations without feeling their weight and burden.
Matthew 6:34 says, "Therefore do not worry about tomorrow, for tomorrow will worry about itself. Each day has enough trouble of its own." This is a great reminder to not worry about the future, but rather be present in each moment and focus on God. We are free to bring our problems to the feet of God and receive extraordinary peace to take on each day as they come.
NEXT STEP
Download and print our simple Today's Priorities Checklist. It's a practical way to manage your time. Use it to organize your day around the things that are most important. We've gone ahead and put "Time alone with God" at the top as first priority. Now, as you list your other priorities, consider whether they are moving you forward spiritually first, then consider other areas like your spouse, family, career, etc. Don't put more than 6-8 items on your daily list—you'll be overwhelmed. If it's too much today, acknowledge that, don't try to fight for every second. Give your time, effort and energy over to God, organize your day around Him first, and let Him direct you to get the most important things done.